Holiday to Dubai:
Are you considering a luxury and majestic holiday trip destination? Do you need everything on a budget but with all luxuries and amenities? Here is a guide for you. This article covers your concern and is a straight guide for you.
If the concern is luxury then Dubai is the best option to travel. If you want a solo trip for relaxing, a romantic escape with your loved one, fun time with your friends or family, Dubai offers you everything with luxuries. A luxury holiday is the second name of Dubai. Dubai is an ultramodern city in the United Arab Emirates that introduces new-age large and beautiful buildings with ancient touches. As well as, dubai is a city of extremes that offers the best discoveries to tourists and holidaymakers. Dubai is famous for its world's largest shopping malls and luxury hotels. You can plan a luxury holiday to Dubai with your loved ones. Some of the aspects that make Dubai a luxury holiday destination are;
High-class Shopping:
If you are heading to Dubai, then don't expect you will not spend money on shopping. Dubai never let you return empty-handed. The most expensive yet most impressive shopping center is Dubai Mall. Dubai Mall is associated with more than 1200 stores. The Mall of Emirates is another attractive shopping mall that has all the luxuries. These malls are so huge that you can easily spend a full day there. Dubai has traditional markets as well that sell jewelry, textiles, and spices. You can also bargain for the prices in these markets.
Tallest Buildings:
From the tallest Burj Khalifa to the tallest princess tower. Buildings in Dubai are surrounded by scenic parks, fountains, and lined walkways. Talking about the Burj Khalifa alone has 148 floors, the last floor gives incredible panoramic views. It has the highest restaurant on the 122nd floor.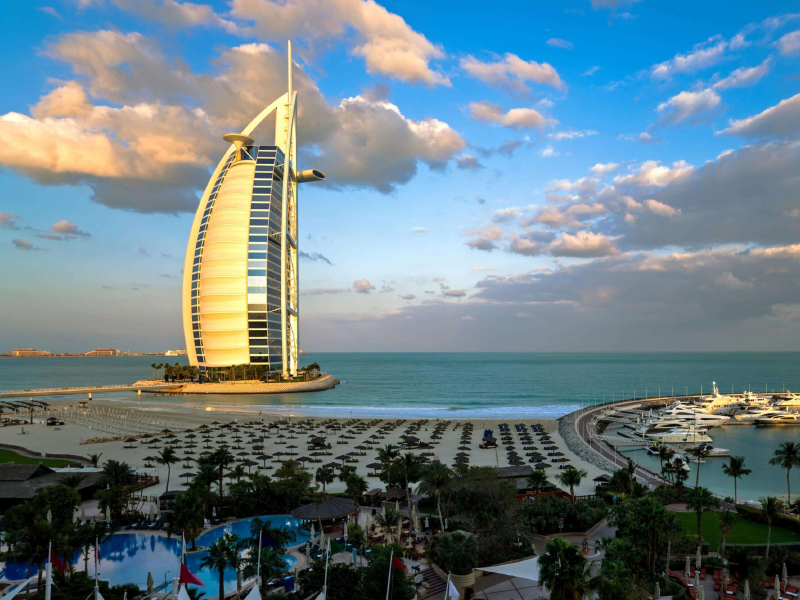 There are other center of attraction buildings as well. Such as Marina Tower, Almas Tower, Cayan Tower, Ocean Heights, Uptown Dubai Tower, and hundreds of other buildings.
Amazing Beaches:
Dubai is a city with hot weather. You can enjoy various beaches in Dubai with your family for fun and picturesque views. You can book your residence with the waterfront scenes. Dubai has premier beaches with free access. You can enjoy sunspots with various fun activities. The best beaches are Al Mamzar, Jumeriah, and Kite Beach. There are public beaches as well. You can find boats and yachts for sailing.
Mouth-watering Food:
You are planning a luxury holidays to Dubai and worried about food? There is nothing to worry about food because Dubai offers gourmet food to amazing street food with local options as well. Dubai offers delicious and affordable food all along the streets. You can get all kinds of food in Dubai, even you can enjoy your native food. There are Asian, Italian, and Japanese restaurants as well. but the thing is you are in Dubai, so for the satisfaction of your cravings and taste buds, you must have a try on Arabian cuisine. You can enjoy Arabian cuisine on the streets of Dubai. The restaurants are friendly and hospitable to the visitors.
Fun and Adventures:
You are in Dubai and you will not have fun, how is it even possible? Dubai offers amazing waterparks, desert adventures, man-made islands, fountain shows, and fun activities. The fun activities include waterslides, sky diving, swimming, hot air balloon, surfing, camel riding, and jeep riding on sand. The series of islands in Dubai is called The World. These are the man-made artificial islands that give you all experiences of fun on the islands. At the fountain shows you can also get the fun of music. The water is shot over 150 meters high in the air which is associated with 66000 lights.
Luxury Hotels:
Hotels in Dubai need no introduction, we all know the about luxurious facilities there. The hotels in Dubai offer you luxury at various prices. If you have got enough money to enjoy the glamour and luxury by all means, choose the best hotel for residency. You can choose a hotel with a scenic waterfront view. Hotel Burj Al Arab is the tallest hotel that gives the most luxurious life and a view of the full city. There are many other hotels as well but you have to plan about living according to your budget.
Final Words:
Perhaps Dubai is the most expensive, well-known attraction in the world. The modern city has incredible and splendid architectural views and offers a gorgeous lifestyle. Dubai is probably the richest country. It is well known due to economic, financial, and social status. People prefer Dubai if they want to migrate for a healthier and wealthier lifestyle. The high-end malls to extravagant scenic views, lavish hotels to fun activities, Dubai is the only city that is all in one.